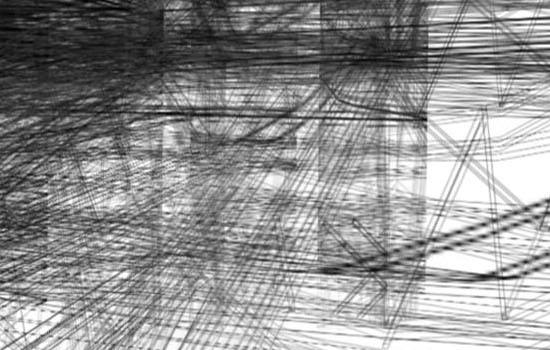 Catherine Béliveau. Pas perdus 02 (2014). Impression jet d'encre, 27 x 18 pouces (détail).
Le GRUPMUV au SenseLab
LE DESSIN INTENSIFIÉ PAR LE MOUVEMENT ÉVÈNEMENT DISCUSSION RENCONTRE
Jeudi 12 mars 2015, 19h
En français et en anglais, Entrée libre
au SenseLab 1250, rue Guy Édifice Faubourg, Concordia Local 630 Montréal, Québec
Quel rôle joue le dessin dans votre pratique ? Comment qualifiez-vous les effets du mouvement dans votre pratique du dessin ? Quels sont les types et les degrés d'intensité qui sont activés par le mouvement dans votre dessin ?
Le Grupmuv vous propose une causerie engagée dans l'échange, ayant pour thématique le dessin intensifié par le mouvement. Trois invitéEs y seront pour amorcer la conversation et exploreront avec les modératrices le rôle du dessin dans leurs pratiques. Le public sera invité à intervenir et prendre part aux échanges durant la soirée. Venez explorer avec nous la relation entre le mouvement et le dessin !
Avec Catherine Béliveau, étudiante au 2e cycle à l'École des arts visuels et médiatiques (ÉAVM) de l'UQAM et membre du Grupmuv. Fred Laforge, artiste et étudiant au Doctorat en études et pratiques des arts de l'UQAM. Andrew Selby, artiste, professeur au School of the Arts, Loughborough University (Angleterre) et un des directeurs du groupe de recherche Tracey.
La modération sera assurée par Erin Manning, professeure à Concordia et directrice du SenseLab, et Gisèle Trudel, professeure à l'ÉAVM de l'UQAM et cofondatrice du Grupmuv. Trudel est codirectrice d'Hexagram et Manning est membre.
*******
What role does drawing play in your practice? How would you qualify the effects of movement in your drawing practice? What are the types and degrees of intensity that are activated by movement in your practice?
Grupmuv invites you to a stimulating exchange about drawing as intensified by movement. Three guests engaged in conversation will discuss the role of drawing in their practices, along with the moderators and the public participating in the event. Come explore with us the relation between movement and drawing!
With Catherine Béliveau, artist and graduate student at UQAM's École des arts visuels et médiatiques (ÉAVM) and member of Grupmuv. Fred Laforge, artist and PhD candidate at UQAM's Doctorat en études et pratiques des arts. Andrew Selby, artist, professor at the School of the Arts, Loughborough University (England) and a director of the Tracey research group.
Discussions will be led by Erin Manning, professor at Concordia and director of the SenseLab and Gisèle Trudel, professor at UQAM and co-founder of Grupmuv. Trudel is Hexagram's co-director and Manning is a member.
___________
With the support / Avec l'appui du Fonds de recherche du Québec – Société et culture (FRQSC)
grupmuv.ca ; senselab.ca ; hexagram.ca ; www.lboro.ac.uk/microsites/sota/tracey
Photos de l'évènement (par Natalie Lafortune et Gisèle Trudel):