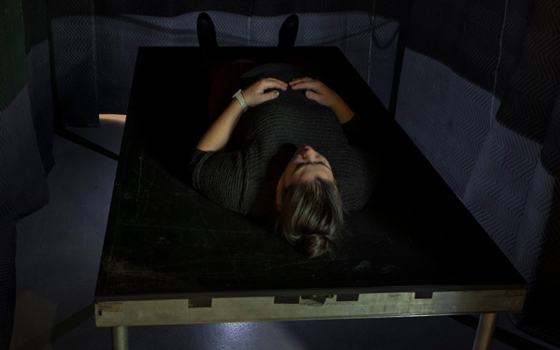 Ælab (Gisèle Trudel et Stéphane Claude) expose au Pratt Manhattan Gallery, New York. Ælab présente Dark Room (2011), une installation sonore tactile, à la Pratt Manhattan Gallery de New York. Le projet s'inscrit dans le cadre de l'exposition collective SPLICE : At the intersection of art and medicine organisée par la commissaire Nina Czegledy.
Ælab est une cellule de recherche formé par Gisèle Trudel, codirectrice d'Hexagram | CIAM et membre chercheur d'Hexagram-UQAM, ainsi que Stéphane Claude, artiste, compositeur et ingénieur du son.
Du 20 septembre au 9 novembre 2013
Pratt Manhattan Gallery 144 West 14th St. New York, NY 10011
http://www.pratt.edu/about_pratt/exhibitions/pratt_manhattan_gallery
Image :
Ælab,
Dark Room
(2011). Photo gracieuseté de Blackwood Galleries, Toronto.
Crédit photo :
Toni Hafkenscheid